1000 Books Before Kindergarten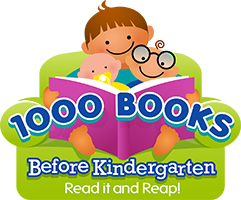 The goal of 1000 Books Before Kindergarten is simple: Read 1000 books before kindergarten! Repeats count, so that one Pete the Cat book you read three times last night counts as three books. But the more literature your child experiences before kindergarten the better.
Sign up here.
Print your starting log here: Books 1-100
When you and your child complete the starting log, come in to move your child's name up the reading board. Then start the next page! Download your next log below.
---
Online Resources for Kids
Check out these boredom busters we found during quarantine.
---